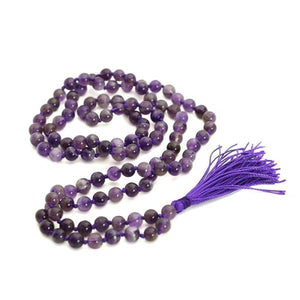 Natural Amethyst Mala Prayer 108 Beads Japa Mala Tassel Necklace
OM1619AMB
Regular price $ 59.99 Sale
Experience the beauty and power of the High Energy Amethyst Gemstones mala!
This stunning necklace features 108 round beads carved and polished from violet amethyst crystal, believed to offer protection and promote stability, calmness, and intuition. The mala also includes one larger additional bead called a Sumeru, used to mark the beginning and end of each round of mantra repetition.
Not only is this mala a gorgeous accessory, it also serves as a powerful spiritual symbol and tool. Use it in meditation to count repetitions of mantras, prayers, or affirmations by rotating the beads between your thumb and fingers. The natural stress-relieving and clarity-enhancing properties of amethyst will help to facilitate decision making and carry positive, healing qualities into your personal energy field.
Each mala is carefully handcrafted by yogis working in a meditative environment, strung on 100% silk cord and knotted between each bead for added durability. Use the mala in your spiritual practice and experience the transformative power of authentic and sincere intention.
Key features:

100% natural
Handmade
Kept sealed for in a bag for energetic protection
LxWxH: 14.5''X0.187''
Product Weight: 0.13 lb