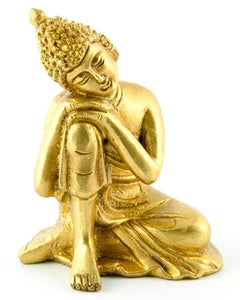 Thinking Buddha Statue
OMS91537
Regular price $ 74.89 Sale
Explore our Exquisite collection of buddha statues and discover artful thinking Buddha statues for your sacred space at home or in the office. Our artisan has captured the peaceful features and posture of Buddha in a stunning brass sculpture.
The Sanskrit word "Buddha" means "The Awakened One" - someone who understands the true nature of the mind, the world, and all sentient beings. Made from solid brass, our Buddha statue measures 4" high x 3" wide and weighs approximately 14 oz.
Each piece is handmade in India, so size and weight may vary. This sturdy sculpture is perfect for use on an altar or as home decor. With its classic hand-carved design, it exudes a peaceful presence that will enhance any living space. Please note that due to the handcrafting, some variations in color and pattern are to be expected.
Our "Awakened One" Buddha Statues embody the essence of enlightenment and are crafted with the utmost care and craftsmanship. Choose our statues for your wholesale needs and offer your customers a meaningful addition to their spaces. These exquisite pieces are versatile decor accents that effortlessly elevate any space. Unlock the potential of inner peace and serenity for your customers by placing your wholesale order today. Let our Buddha statues infuse your store with the essence of enlightenment.